Registered Nurse (RN) (Full-Time/Part-Time) New Grads Welcome
Full Time
Posted 8 months ago
Company Details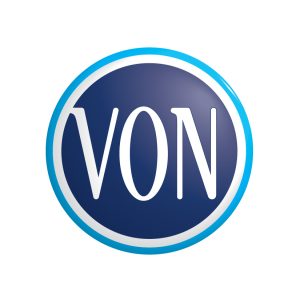 If you are a Nurse who prides yourself on empathy, adaptability and excellent judgement and who enjoys working with children and/or adults, this position is the ideal fit for you!
Join the VON team and make a difference in the lives of our clients in your community by delivering exceptional care. VON nurses collaborate with community health teams to provide client-centered health care in homes, community settings and clinics. Come work with us – it's a job that matters!
Our Visiting Nurses provide client care in the client's own home. They provide physical assessments, symptom control support, palliative care, rehabilitation therapy, wound care, education, counselling to individuals and families and much more.
Our Clinic Nurses provide care in VON community clinics. Our clinics provide client assessments, wound care, IV medications, client and family education, and much more.
Various schedules available for Days, Evenings, Nights and/or Weekends. Clinical Support available 24/7 for all team members.
Nurses hired for the Hastings-Northumberland area may be working in Belleville, Trenton, Picton and/or Bancroft.
What we can offer you:
Comprehensive orientation program
Opportunity to use your skills and expand your knowledge
Competitive salaries and vacation time
Tiered Benefits (health, dental, LTD) and an Employee Assistance Program
Defined Benefit Pension Plan with company contribution
Travel compensation
Smartphone provided to keep you connected during work time
The opportunity to make a difference in your community
Work with an organization that is 125 years strong
What we need from you:
Must be Licensed as a Registered Nurse in the province of practice
Experience in community health is an asset
A valid driver's license and access to a reliable vehicle is required
A current and original copy of a satisfactory Criminal Records Check is required
A Vulnerable Sector Search and/or a Child Abuse Registry Check may be required
Must be able to wear Personal Protective Equipment (PPE)
On-call shifts may be required
Come for the job, stay for the learning, and the chance to make a difference
Work Conditions and Physical Capabilities: Fast-paced environment; Attention to Detail; Lift and carry using appropriate lifting techniques; Bend, push, pull, grip, reach, kneel, crouch using good body mechanics; Walk, sit, stand, climb stairs; Fine hand movements
VON Canada is committed to meeting the needs of persons with disabilities and to providing accessibility accommodations for candidates who require them. If you are in need of accessibility support, please visit our website at http://www.von.ca/en/accessibility for further information and contact details.
Other terms commonly searched for this type of opportunity: Registered Nurse, RN, nurse, nursing, practical nurse, clinic nurse, RN nurse, school nurse.